Proteus invites you to follow them down the rabbit hole to Wonderland for amazing adventures – oh, and tea, of course, in this is wonderful retelling of Lewis Carroll's classic tales.
Fusing his two adventures in Wonderland; 'Alice in Wonderland' and 'Alice Through The Looking Glass' the books are brought to life with classic storytelling, puppetry, circus and a bit of good old fashioned theatrical magic.
The production was outstanding…I consider myself fortunate to have been present.
-Audience member
This set and staging has been meticulously designed by Sam Pine who has worked on multiple Proteus shows, including Houdini and the Secret Garden to name a few. Colourful costumes are offset against a striking, multi-level monochrome set, styled as an open book.
What a wonderful night, thank you all. The energy, the fun, the singing and the acting an amazing package.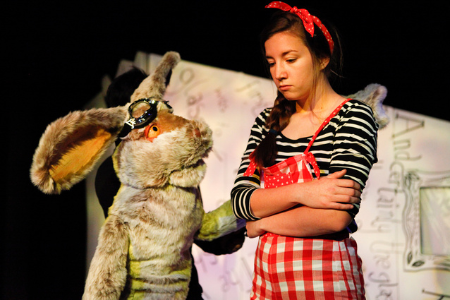 Talented actors share the stage with intricately crafted puppets; from a miniature Alice, to a selection of creatures that could only be found in Wonderland. Nick Ash of Scratchbuilt Productions spent over 200 hours creating the beautiful puppets for this show. Nick says, "the puppets I have created for this show, will take you on a journey, blurring the lines between reality and fantasy".
Music plays a key role in the storytelling of this production, and the actor-musicians worked with composer Paul Wild to underscore the action. Paul has worked with Director Mary Swan for over ten years and created the music for the 2012 production of 'The Secret Garden'.